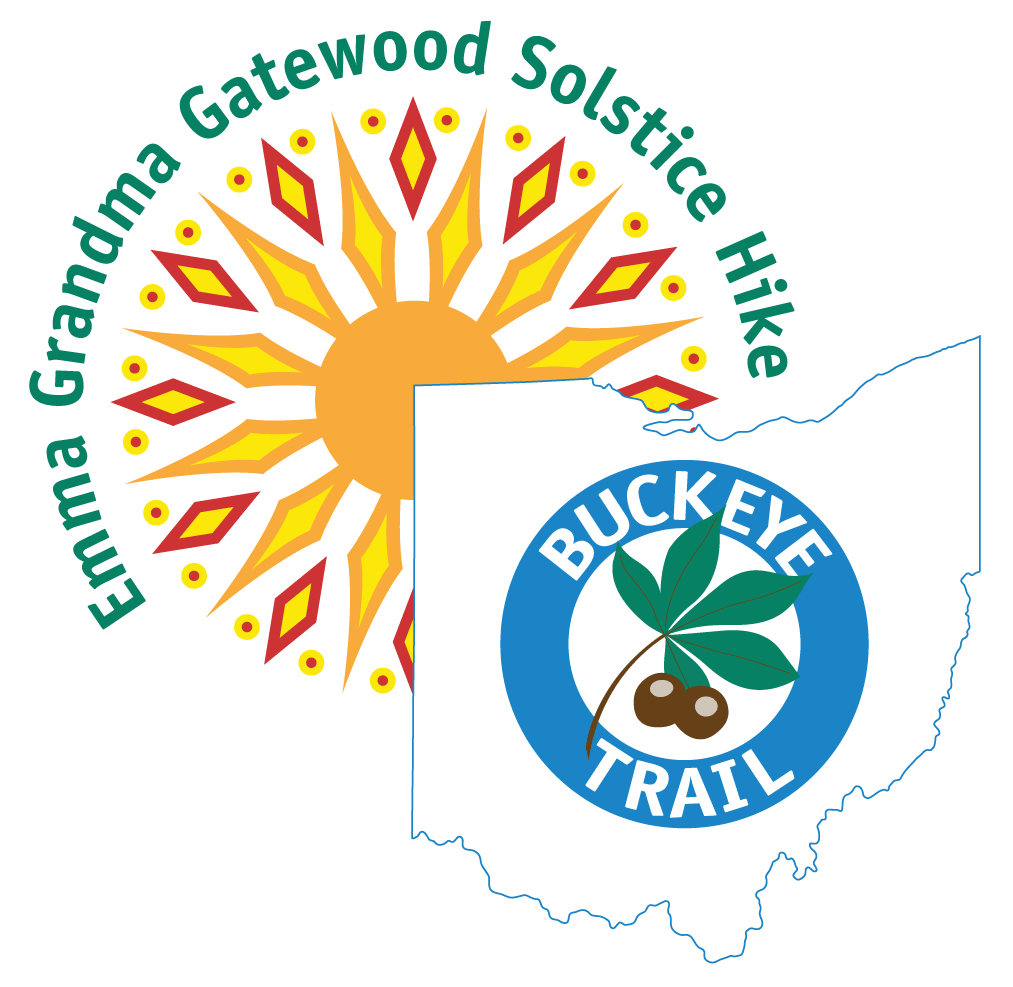 6th Annual 2015
E.G.G.S. HIKE
and CAMPOUT
WHO: The Buckeye Trail Association in cooperation with the North Country Trail Association, Wayne National Forest, Little Cities of the Forest Collaborative, Sunday Creek Watershed Group, and Burr Oak State Park
WHAT: 4 hiking challenges consisting of 20, 40, 60 and 80 miles that need to be completed in 12, 24, 36 and 48 hours respectively
WHEN: Thursday, June 18, 2015 at 12pm–Sunday, June 21, 2015 at 3pm
WHERE: Burr Oak State Park and Wildcat Hollow Backpack Trail
WHY: To honor a founding member of the BTA and the first female to thru-hike the Appalachian Trail, Emma "Grandma" Gatewood, an Ohio native and long time advocate of ultra-light backpacking
VOLUNTEERS: We will be looking for volunteers to man trail checkpoints, assist with registration, and help with camping activities for any hikers bringing their family and little hikers to the event. Volunteers receive free meals from the BTA Chuckwagon and a free t-shirt.
REGISTRATION: Registration on-line: $50 for BTA Members, $60 for Non-Members (includes a 1-year discounted membership to the BTA). Walk-in registration on the day of the event: $60 for BTA Members and $70 for Non-Members (includes a 1-year discounted membership to the BTA). Registration includes a T-shirt and camping. Those hikers that complete their hike in 12, 24, 36, and 48 hours will also receive an EGGS Hike patch. Campers-only do not need to pre-register, just contribute $5/night/tent on-site to camp.
CONTACT: oldmanscave@buckeyetrail.org (Byron Guy) for any further questions.
PRE-REGISTER AND PAY ONLINE TO RECEIVE A

FREE T-SHIRT AND DISCOUNTED REGISTRATION!
Hope to see you in 2016!

HERE'S WHAT TO EXPECT!
THURSDAY, JUNE 18:
12 Noon: Camp opens
4-8 pm: Registration open
FRIDAY, JUNE 19:
10 am-6 pm: Registration open
10 am: Raffle & BTA store open
10 am: 80 mile hiker meeting
12 Noon: 80 mile challenge begins
6 pm: Potluck
8 pm: 20, 40, 60 mile hiker meeting
10 pm-Midnight: 60 mile challenge begins
SATURDAY, JUNE 20:
8-10 am: 20 mile challenge begins
10 am-12 Noon: 40 mile challenge begins
8-10 pm: 20 mile challenge ends
SUNDAY, JUNE 21:
10 am: Raffle closes
10 am-12 Noon: 40 & 60 mile challenge ends
12 Noon: 80 mile challenge ends
1 pm: EGGS Closing Ceremony & Jubilee
POTLUCK!
Friday at 6pm
The potluck dinner is Friday, June 19 at 6 pm. List your favorite covered dish, salad or dessert you'll be bringing on the "Pot Luck" Facebook post. You can keep checking on this thread to see what's being brought. Diners are responsible for their own dinnerware, utensils and beverages.
FAMILY ACTIVITES!
Saturday at 10am
9:30 am: Shuttle From Lodge to Group Camp
10 am: 3.5 mile loop hike from Group Camp by Burr Oak State Park Naturalist. Easy pace, interpreted, bring your own lunch to eat on the trail.
1:30 pm: Shuttle Back and Forth to Lodge
2 pm: Try kayaking at Dock #3. 5 kayaks for intro instruction and a pontoon ride. Two one hour shifts.
3 pm: Second boating shift.
4-8 pm: Down time to set up camp, make your first camp dinner, hang out with others.
4:30 pm: Shuttle Back to Lodge
8 pm: Shuttle From Lodge to Group Camp
8:30-9 pm: Citizen Science Firefly Study with Rural Action Environmental Learning
8:48 pm: Sunset
9 pm: Astronomy with Tom O'Grady and George Eberts
9 pm: Camp fire begins - smores, and bring your own instruments
10 pm: Shuttle Back to Lodge
A BIG THANK YOU TO OUR SPONSORS:
Burr Oak Lodge (Shuttle)
Rural Action (Firefly Study)
Burr Oak Getaways (Free Kayaks and instruction)
Burr Oak State Park/Ohio State Parks (Naturalist)