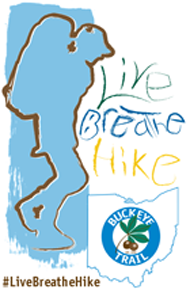 Thank you for Living, Breathing and Hiking Ohio's Buckeye Trail!
Following the blue blazes of the BT leads us to great places, adventures, and people. We hope that your experiences on the BT inspire you to support the Buckeye Trail Association today by kicking off a campaign to grow our membership, volunteerism, and enjoyment of our trail.
Click the "Donate" button to support the important work of BTA Volunteers and Staff today!
Seeing the BT logo and blue blaze here may trigger a memory of your experiences with the BT. Are you…
Walking down the trail past a carpet of spring wildflowers, persevering through the heat of summer, rustling through golden fall foliage or leaving tracks in the snow across a crisp winter landscape?
Finding friends, discovering new places or finding yourself on the BT?
Hiking in solitude, using the BT as an excuse to connect with an old friend, or a chance to meet up with new friends?
Disconnecting from work and stress to venture out where there is no cell service? Or are you serving others by volunteering, giving back, in the back country or the back room? Or…
Strolling down a historic canal towpath into the next Trail Town to refresh yourself at the local pub with good food, good drink and good friends?
Whichever stroll you are taking down that memory trail… you, and thousands more like you, are Living, Breathing and Hiking Ohio's Buckeye Trail everyday in your own way. In 2016 we're focusing our staff and volunteer efforts on a campaign to grow our membership, volunteerism, and participation in our organized adventures. What is "Live, Breathe and Hike"?
Living the Buckeye Trail through membership!
We need more members just like you… so we're organizing a Live, Breathe and Hike! membership drive and you can help right now by giving a discounted gift of BTA membership.
In addition, we continue to hold new membership events planned at various locations around the state. Visit our Live, Breathe, Hike Membership Opportunities page to find an event near you!
Breathing the BT through Volunteerism!
We're riding our momentum and DOUBLING our commitment from 10 to 20,000 volunteer hours on the BT before October 1, 2016! You can help right now by registering as a BTA Volunteer to learn about opportunities, encouraging a friend to sign up or by connecting us with local volunteer groups. Contact us at