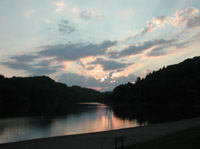 Dow Lake Sunset
photo by John Knouse
Live, Breathe, Hike
Photo Contest
2016
Anita Proxmire won the 2016 Photo Contest! Congratulations!!
Anita swept the contest with 3rd, 2nd, and 1st place. All her winning pictures were chosen by BTA Facebook friends and then voted on by the attendees at TrailFest.


Third place - steps up at Burr Oak State Park
Second Place - hiking trail at Burr Oak State Park
FIRST Place - autumn trail on the Ohio and Erie Canal
Start thinking about your photo opportunities for next year's contest!