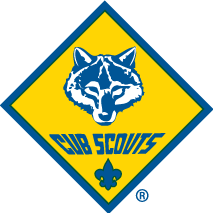 CUB SCOUTS AND WEBELOS

TIGER CUB (Age 7) Earn beads for the Tiger Scout emblem by completing the Tiger Club achievement, Let's Go Outdoors. This achivement is also part of Cub Scounting's Leave No Trace Award.
Family Activity:
Go outside and watch the weather.
Den Activity:
With a crayon or colored pencil and a piece of paper, make a leaf rubbing.
Go See it Activity:
Take a hike with your den.

WOLF CUB (Age 8) Work on earning Arrow Points by assembling the Six Essentials for Going Outdoors and discuss their purpose.
First Aid Kit • Filled water bottle • Flashlight • Trail food • Sunscreen • Whistle
Also complete four of the Outdoor Activities:
1. Participate in a nature hike in your local area.
4. Attend a pack overnighter. Be responsible by being prepared for the event.
5. Complete an outdoor service project in your community.
6. Complete a nature/conservation project in your area.
13. Explore a local city, county, state, or national park.

BEAR CUB (Age 9) Complete the Leave No Trace activity.
I promise to practice the Leave No Trace front country guidelines wherever I go:
1. Plan ahead.
2. Stick to trails.
3. Manage your pet.
4. Leave what you find.
5. Respect other visitors.
6. Trash your trash.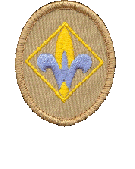 WEBELOS (Age 10) Earn the Outdoorsman Activity Badge.
Do two of these:
1. Show the camping gear you will use. Show the right way to pack and carry it.
2. Help plan and take part in an evening outdoor activity that includes a campfire.
3. Sleep in a tent that you have helped pitch.
And do five of these:
6. Participate in an outdoor conservation project.
8. Assist in preparing, cooking, and cleanup for one of your den's meals.
9. Go on one 3-mile hike with your Webelos den or a Boy Scout troop.
BOY SCOUTS

TENDERFOOT SCOUT The requirements provide basic skills to begin preparing the scout for higher adventure outings. Explain the rules of safe hiking, both on the highway and cross-country, during the day and at night. Explain what to do if you are lost.

SECOND CLASS SCOUT Second Class scouts work on building their outdoor survival and camping skills. Using a compass and map together, take a five-mile hike. Discuss the principles of Leave No Trace. Participate in an approved (minimum of one hour) service project.

FIRST CLASS SCOUT A First Class Scout is prepared. Demonstrate how to find directions during the day and at night without using a compass. Demonstrate the principles of Leave No Trace on these outings.

STAR AND LIFE SCOUT Scout must perform 6 hours of service to others. This may be done as an individual project or as a member of a patrol or troop project. Star and Life service projects may be approved for Scouts assisting on Eagle service projects.






TRAIL REQUIREMENTS Check with your local council for additional requirements to earn the award.