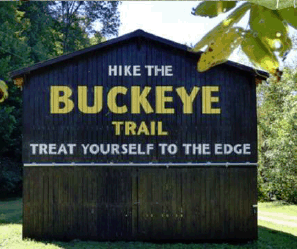 The Buckeye Trail's Future Begins with You!
Together the Buckeye Trail Family accomplishes so much thanks to the work of our volunteers and the support of BTA members. Each year we ask hikers to join the tradition of giving back to Buckeye Trail by chipping in to support all of our good work. Hiking the BT, becoming a member, volunteering, and contributing to the BTA are all helping to create a great future for our next generation.
The Buckeye Trail Association has grown by all measures in recent years. We have gained more members and volunteers, maintained and constructed more miles of trail, developed more partnerships, increased our outreach efforts, added more staff, seen more public awareness and recognition, inducted more Buckeye Trail Towns, created more signature events, welcomed more BTA Chapters, developed more campsites and … more!
Your personal experiences on the Buckeye Trail and the face to face interactions with other members, hikers, and volunteers are what create life changing and enriching memories. Imagine all the memories created over our 57 years of hiking, camping, building, maintaining, and enjoying Ohio's Buckeye Trail. You may have felt the sense of family out on the BT with other members, volunteers and hikers. Like any family, we care about the next generation on the Buckeye Trail. We need your support to sustain our growth and increase the quality of experiences made on the trail today to create tomorrow's cherished memories.
Thanks to BTA Volunteers we have:
Recruited over 300 new BTA Members so far through our Live, Breathe, Hike Campaign! Including Member Drives in Dayton, Athens, Columbus, and Zoar as well as signature events such as Buckeye TrailFest, EGGS Hike, and Run for Blue Blazes Trail Run Marathon.
Negotiated and added 10 new campsites to the Buckeye Trail bringing our total to 111.
Organized 13 Buckeye Trail Crew Work Parties around the state including the multi-year West Branch State Park and Edge of Appalachia Nature Preserve projects, Richfield Heritage Preserve (Camp Crowell-Hilaka) and completion of the Boch Hollow State Nature Preserve project!
Inducted the Historic Village of Zoar as our newest Buckeye Trail Town.
Created two new Chapters of the BTA to achieve our mission locally. Welcome Central Ohio Chapter and Crooked River Chapter serving NE Ohio!
If you'd like to see even more accomplishments and memorable experiences like these on the Buckeye Trail in 2017 please take a moment to support and sustain the Buckeye Trail Association's good work.
CLICK ABOVE TO DONATE TO OUR FALL APPEAL AND THANK YOU FOR HELPING CREATE LASTING BUCKEYE TRAIL MEMORIES TODAY!!